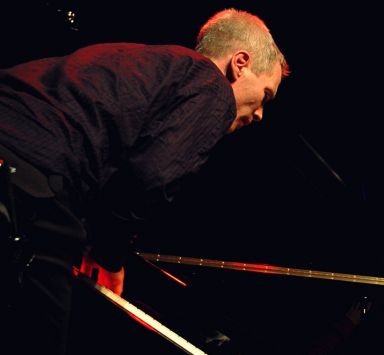 Søren Nørbo, Gimle, Denmark. Photo: Karolina Zapolska
Søren Nørbo Trio med Nils Bo Davidsen og Kresten Osgood.
På Copenhagen Jazz Festival 2015
Mandag den 6. Juli kl. 20-21
Frihavnskirken,
Willemoesgade 68,
2100 København Ø.
Entre 50,-
Politiken, marts 2015 skrev, bl.a. :"...som en kultiveret samtale mellem tre ligestillede parter."…"…formår på en poetisk og forfriskende måde at forene det melodisk med det abstrakte. Hele tiden en syngende fornemmelse i hans hænder, fragmenter af små koraler eller påbegyndte sange som spejlinger af hans dansksprogede titler..."
Ved koncerten fremføres 11 kompositioner, flere skrevet til lejligheden, bl.a. Krypten i Mørke og Så længe solen står.
THE INVISIBLE GUEST Søren Nørbo Trio
feat. Joakim Milder (saxes, recorder) - Django Bates (peck horn, melodica, glockenspiel)
Can be ordered here "contact"
NOTE FØR ILDEN Søren Nørbo/Lars Skinnebach/Nils Davidsen
+ woodwinds: Thomas Agergaard, Lotte Anker, Lars Greve, Francesco Bigoni, Piero Bittolo Bon, Beppe Scardino
Can be ordered here "contact"
"One of contemporary danish jazz' most characteristic artists"
Kjeld Frandsen, Berlingske
"Søren Nørbo is one of our most prestigious pianists"
Boris Rabinowitsch, Politiken
"This splashy, exultant piano trio from Denmark are characterised by quick wits and keen ears"
Alan Brownlee, Manchester Evening News
"Their interplay is closely and dependently linked as listeners as much as players" Laurence Donahue-Green, AllAboutJazz New York
"With tonal finesse and interactive mobility, he shows melodic fantasy and a rather amusing sense for trio playing"
Thierry Quénum, Jazz Magazine